All Italy is wonderful, visit it!

Visit Italy in bed and breakfast

The best way to meet the real Italians
Benvenuti!

In Italy bed and breakfast is a rather new form of accommodation. If you ever had any doubts about what it really means, let's make it 100% clear here.
It's often written also bed&breakfast or B&B and it's becoming more and more common also in Italy and it's a type of "homely", family accommodation. The concept is that of a family with maybe an extra room in a big house, would use it to host people upon payment. It is a bit like a hotel, although you stay in somebody's home and the service is minimal, as the word says, just a bedroom to sleep and breakfast.
In Great Britain it's extremely common and you can see houses with the bed and breakfast sign nearly everywhere.
Advantages of B&B

For a family it is a way to earn some money from their own house by using a spare room, without having to do huge investments and get to know many different people (obviously, for those who like this).

For travellers it's a way to find an accommodation at a lower price than a hotel and get in touch with locals in a more personal way and get information on the place their are visiting. Tourists will be able to stay even in central areas of very expensive cities spending much less than in a hotel. In Italy, you can often find bed and breakfasts in very small or isolated locations where there are no hotels.
In Italy too bed and breakfast is getting more and more widespread for the same reasons, because even an individual can easily start a micro accommodation business and earn some money while getting to know tourists and carrying this activity on whenever he or she prefers, throughout the year or only during certain periods (to tell the truth, something similar already existed in Italy and you can still find this word somewhere: it was the affittacamere (which means someone who lets rooms), although often the affittacamere did this by trade and for long periods).


Like in other countries, in Italy bed and breakfasts can be of different types and categories, ranging from the normal city apartment to a large countryside villa that can find a new life this way.
Finally, if now you start thinking you would like to try and host some guests in your house, read here how to open a B&B.

Who is bed and breakfast suitable for?

Those who offer their home to house strangers are people open to contact with others and therefore also visitors, the tourists, knowing what a bed and breakfast is, if they choose this type of accommodation should have the same spirit and willingness, not everybody likes it.

So, if you are looking for a cheaper accommodation in Italy and like to be in touch with the locals and maybe practice your Italian, bed and breakfast is an option.
Moreover, breakfast is, for the visitors, an opportunity to ask their hosts for some advice on what to see, a good place to go for a meal and more information about the area.
How to find a bed and breakfast in Italy

Sometimes bed and breakfasts are listed in websites under B&B, guest houses, apartments or other and there is no one website that gathers all possible accommodations, so you'll have to do a bit of research. Here we offer you three tools.
To begin, click on the picture below and you'll go to a website that lists bed and breakfast in Italy and the rest of the world.


Click on the picture to find Bed and Breakfasts in Italy and the rest of the world
The second form, here below, allows you to search for bed&breakfasts as well as  hostels.


Click on the picture and find B&Bs, hostels and campings in Italy and the rest of the world
Finally, you can use the search form below, also for hotels. Since the form is a comparison search engine that searches within bed and breakfast and other types of accommodation offered by over 30 booking websites, you'll find the the best prices for the same accomodation.

So, in one place you have huge choice (over 900,000 accommodations throughout the world) and you can compare prices that the same hotel has on different booking websites and book it where it's cheaper. You only need to type the town where you want to stay, the check-in and check-out dates and then, if the results are too many, you'll be able to select only bed & breakfasts.
You can also search in the list of all available Italian municipalities.
Perfect for short stays

The majority of visitors who choose a B&B doights. This way it is possible to visit many places in a short time and in Italy there are so many beautiful places to see!
Enjoy your tour!
Don't miss the opportunity to visit Italy at any time of the year!
Book short stays, guided tours, tickets in Italy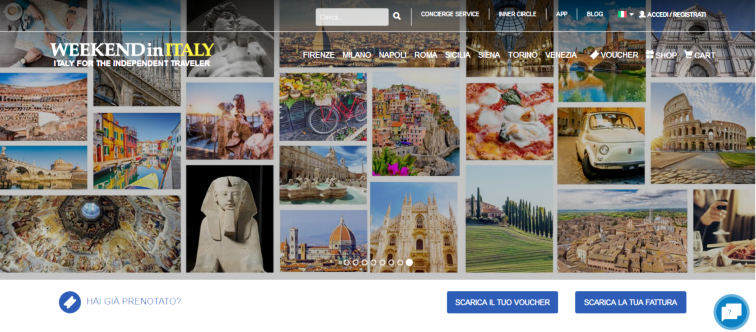 Book short stays, guided tours, tickets for a wonderful week-end in Italy
---
---
Custom Search
When you contact these comuni let them know you found them on
Go from Italy "bed and breakfast" to Home